Emma and Sweetie
The Emma and Sweetie Fund for Disadvantaged Pets is funding for your pet's health care when you cannot afford it. We are accepting donations as this fund is in need.
---
Gowns for Hounds
Gowns for Hounds is a charitable organization sells gently used, donated gowns to raise money to fund veterinary care for financially challenged companion pet owners.

---
Pet Pantry
Do you live to see animals well taken care of and fed? Visit Pet Pantry to learn how you can help keep pets with their owners and out of animal shelters. We have a drop box for donations of food in our lobby.

.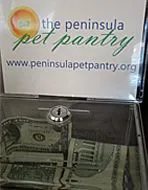 ---
Emergency vet care
The Peninsula Animal Referral Center is a network of local veterinarians who have united to bring specialty and emergency services to the Peninsula.
---
Peninsula SPCA
The Peninsula SPCA offer special services for homeless and abused pets. Want to adopt one of these little sweeties? Visit www.peninsulaspca.org to learn how.

---
Animal Aid Society
The Animal Aid Society is a no-kill dog shelter. Learn how you can give one of these pups a good home by visiting http://www.animalaid-va.org for more information.

---